Cathedral Place is the perfect spot for you to find a wide variety of restaurants. You can easily stroll down Wickham street and stop at whichever place you see.
Not only do you have a full range of culinary options in nearby Chinatown and Brunswick Street but you have Cathedral Village at the base of the building.
We have compiled a list of the best restaurants in the area for your next meal. From fast food to upscale dining. You will not be left wanting.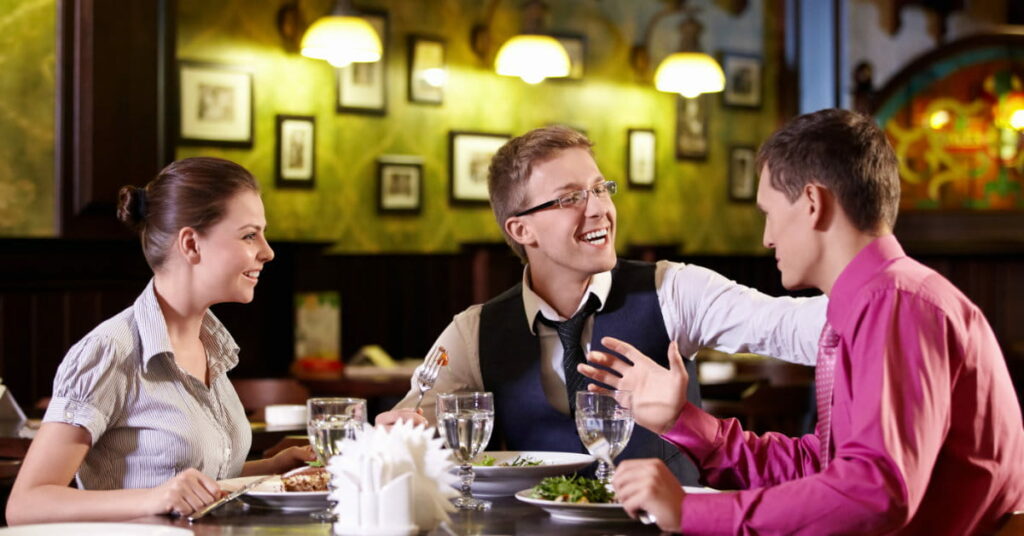 Cathedral Place is close to some of the best restaurants in town. Most within five minutes walk away. So you are only just a few steps away from your next meal!
What Makes a Great Local Restaurant
Local restaurants are instrumental in fostering communities. For many locals, they are a place to escape the stresses of their day-to-day lives. Indulge in comfort food and share the experience with friends or family.
But for all their importance to local communities, local restaurants can be hard to find if one does not know the area that well. And for those that do present themselves, it is often difficult to know if they are worth trying out.
The following are some qualities that make a great restaurant:
Service – Is your waiter attentive? Are they knowledgeable about the menu?
Food – Is it fresh? Do you get what you ordered?
Ambience – Is it clean and tidy? Does it have a nice vibe?
Many factors make a great restaurant. To illustrate some examples, it may be the menu, lighting, ambience and the service. It is important to consider all of these elements when creating a restaurant worth visiting.
What makes a good local meal? To begin with, it's not all about what you eat but where you eat it. You can't just try any old place to enjoy some good food. You have to find the best places in town that offer what you want for your dollar.
Closest Restaurants to Cathedral Place
Here is a list of restaurants either in Cathedral Village directly under the Cathedral Place apartments or restaurants that are located just over the road.
Tea Master – Vegetarian Cafe Restaurant
This is a vegan and vegetarian restaurant in Cathedral Village. Over the road from China Town on Wickham Street.
They offer a large selection of 100% vegetarian dishes and many of them are vegan. Many of the dishes on their menu are gluten-free. Come and eat delicious food. Sit down, relax and drink yourself to sleep with an authentic Taiwanese high mountain tea.
When you are planning on dropping in, feel free to call them beforehand to ask any questions.
You will love your time at the Tea Master. They have great customer service and have been operating for a long time. You are sure to try everything on the menu if you visit regularly. All the food is super delicious.
The quality of the food is very consistent. Everyone loves the different flavours they offer. There are a variety of set menus for you to choose from which are of great value. Various types of tea taste great. Try some to see which you like the most.
See the Tea Master Facebook page for the latest up to date information.
Oyama Japanese Restaurant
Oyama Japanese Restaurant is an imported restaurant that offers both sushi and teppanyaki located in Cathedral Village. The restaurant has been open for over 20 years, with rave reviews about its quality food.
Head to one of Brisbane's teppanyaki bars and be seated. You can find seafood-themed, vegetarian-friendly and vegan options on the menu.
You can make a reservation by calling (07) 3257 0738 or visiting the Oyama Facebook page for more information.
Vietnamese House
If you want to try authentic Vietnamese cuisine, this restaurant in Fortitude Valley promises to bring their homeland cooking memories to life.
Just telling the truth, they will always do their job and fulfil what you need. Some of the dishes on the menu include seared crispy pork belly, light spring rolls with rice paper, and marinated grilled ling fish. The atmosphere is cosy with many details that form a friendly ambience.
Vietnam House is a welcoming venue located at 146 Wickham Street, Fortitude Valley. You will be reminded of Vietnam and the feeling you get from Australia as soon as you enter. Try some of their delicious Vietnamese food.
Tara Thai Restaurant
Tara Thai is home to the finest Thai cuisine. It is delicately and skilfully prepared with ingredients sourced from Thailand. They offer fresh and colourful dishes inspired by flavours from the region.
Their beautiful food is decorated with authentic art pieces from Thailand, transporting you to that other beautiful country.
They are a licensed restaurant with B.Y.O. Wine and Beer only.
Visit the Tara Thai website to view the menu or place a takeaway order.
Hotel Carrington
Hotel Carrington is over the road from Cathedral Place on the corner of Wickham and Gipps streets. It resides inside a delightful heritage building.
The restaurant has a traditionally-inspired menu that blends some of the classics, including salads, pizzas, burgers & steak house favourites with exciting modern Australian dishes.
The bar offers the best drinks in Fortitude Valley. They offer a large range of local, imported and craft beers, hand-selected wines and spirits including over 45 whiskies. They also have an extensive cocktail menu with something to suit every taste.
The premises has two secret gardens. One of them has exposed brick lining the alleyway which offers old-world charm. The other, also with exposed bricks. However, more modern in appearance. It offers cool alternatives to sitting rooms and reading areas.
The interior is rooted in its history, this is clear from the exposed brick, metal ceilings and concrete floors. However, modern finishes are used too with greenery and eye-catching art.
Other Restaurants Within Five Minutes Walk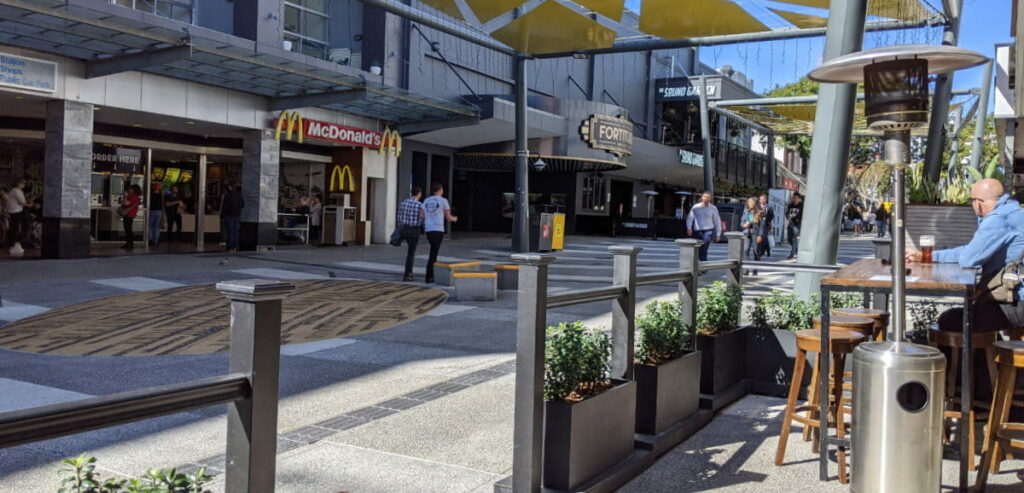 Walking further along Wickham Street, you will soon realise the sheer number of restaurants on offer close to Cathedral Place.
It marks the beginning of Brisbane's Chinatown. You will be enticed by many different flavours and will need to make a choice! Restaurants include:
Chinese
Thai
Malaysian
Japanese
Vietnamese
Korean
and more!
If that is not enough, venture the next street down and you hit the Brunswick Street Mall. Besides the number of pubs and clubs lining the mall you will see more restaurants and fast food places. Yes, there is a McDonald's there if you must!
However, if you plan to go for a sit-down meal, try The Sound Garden bar and dining for an alternate option.
All in all, as you may have worked out from the above is that Cathedral Place is well situated to access some of Brisbane's best restaurants. Just step out the door. You can't go wrong!