Despite the shady reputation Fortitude Valley has had in the past it is transforming into a very livable suburb in Brisbane. If your only experience of "The Valley" is in the wee hours of the morning around the Brunswick Street Mall, you may not be aware there is a different side to this well-known suburb.
Inner-City Suburb Spanning a Large Area
For the large number of Fortitude Valley residents that aren't generally out late at night or hanging around the pubs and clubs life is pretty normal and a totally safe place to live. However, common sense does dictate if you are out on the town in the entertainment precinct with people drinking there is more likelihood of irrational behaviour.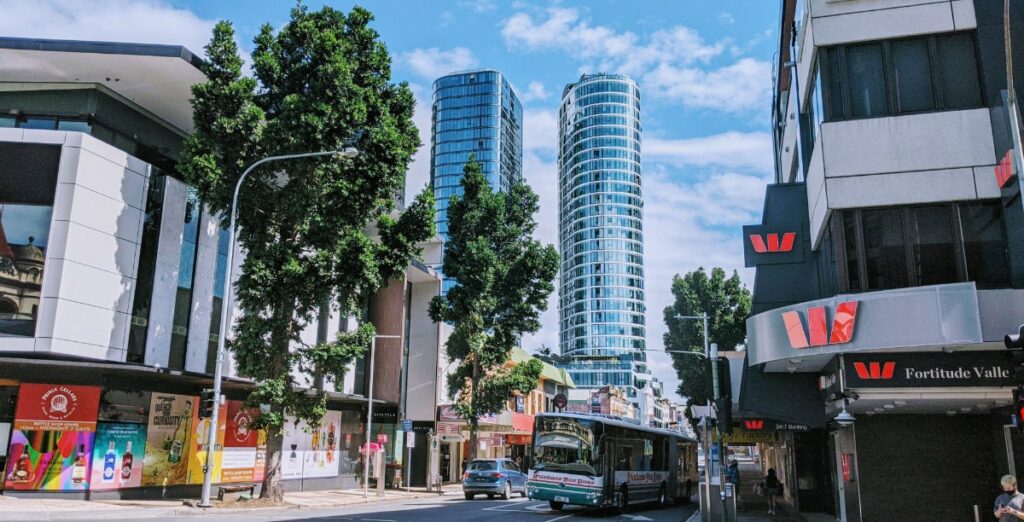 Fortitude Valley Queensland covers quite a large area with a number of distinct precincts that vary in style and atmosphere.
As mentioned above, the Valley Heart precinct is mainly where all the action takes place. It is a hive of activity at night time being a specially zoned entertainment area. This includes Brunswick Street Mall, China Town and is serviced by the Fortitude Valley Train Station.
The James Street precinct in contrast to the Valley Heart is generally known for its upmarket boutique shops and fancy restaurants. There are more residential buildings around the area and borders on the expensive suburb of New Farm.
The Gotha Street precinct borders on the Brisbane central business district commencing at Centenary Place, which is a triangular-shaped park that has Boundary Rd at its top and flanked by Ann and Wickham streets. Cathedral Place is just over the road situated in between the Brisbane CBD and the Valley Heart.
The Water Street precinct is different yet again. Located near the Brisbane Showgrounds and King Street. The area has a relatively new feel being developed in recent years.
If you are researching Fortitude Valley it is worth taking some time to walk around some of the other precincts mentioned above away from the Valley Heart to get a better feel for the suburb.
Fortitude Valley By Day
In contrast to weekend nights, even the Valley Heart is visibly different in the daytime. Weekdays see the hustle and bustle of business workers who are generally employed in administrative type jobs, similar to neighbouring Brisbane city. The thought of whether you are safe or not is generally not top of mind! To generalise, I guess the Valley by day could be seen as a chilled out CBD.