Where to Park at Cathedral Place
There are two main sections to the Cathedral Place car park.
Visitor's Car Park – Pay per hour system. First 20 minutes are free. Located to the left (first entrance). Delivery bay is here just before entering the visitor's car park.
Residents Car Park – Allocated car spots where the residents live. Located to the right (second entrance). Consists of two levels, basement one (B1) and basement two (B2).
The main entrance to Cathedral Place can be seen in the photo below. You will be entering via Gotha St either off Wickham St or Parry Parade.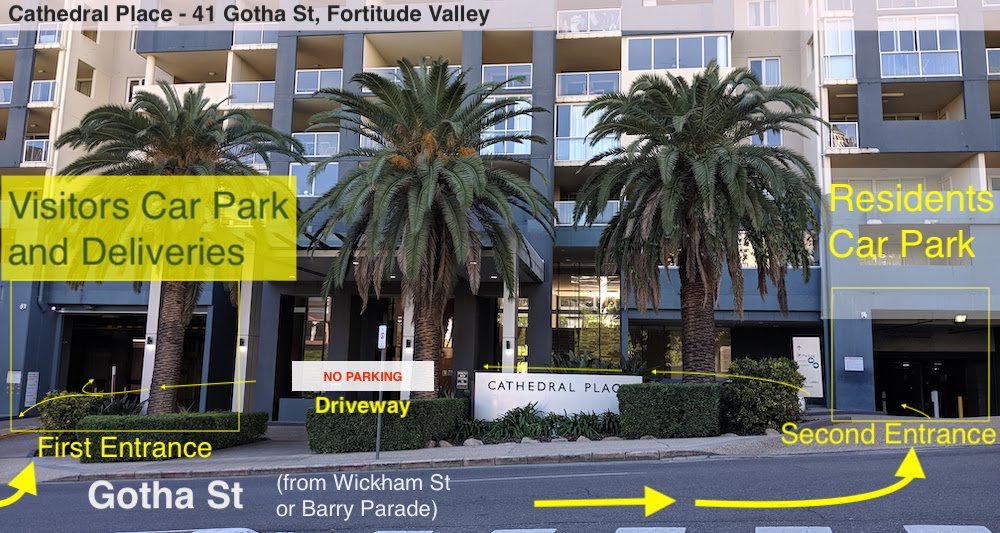 Keep your car cool. This car window sunshade adjusts to the size of your car window. Made from a breathable elastic mesh material.
Visitors Parking Area
You'll need to use the Cathedral Place visitors parking area for the following reasons…
You are visiting friends or relatives that live in the Cathedral Place apartment complex.
Your apartment does not have an allocated car park number. This may apply to people who have booked a short stay apartment without a car space.
You are doing some shopping or have an appointment at one of the retail shops at Cathedral Village specialty stores.
You are visiting Cathedral Place to view rentals, short stay accommodation or apartments for sale.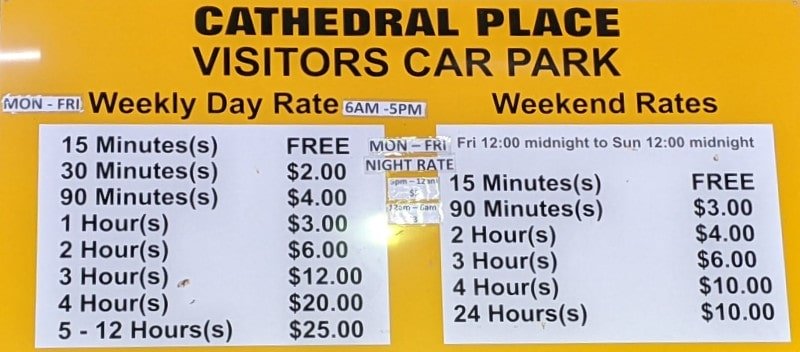 Residents Parking Area
The resident Cathedral Place car park is, as it implies, for residents only. So be careful when parking here. Make sure
a) you are authorised to park there and
b) you are parking in the correct allocated number.
Park in the wrong spot and your car will be towed away.
Cars are towed away that are illegally parked. If a resident is unable to park their car because someone is in the wrong car bay it will be reported to caretaking.
Deliveries
Deliveries to Cathedral Place are usually made using the delivery bay area just before entering the visitor's car park to the left entrance. This area allows for larger high top trucks. If unsure how, or if the delivery bay needs to be used for any extended period of time please contact Cathedral Place Caretaking for booking and further instruction.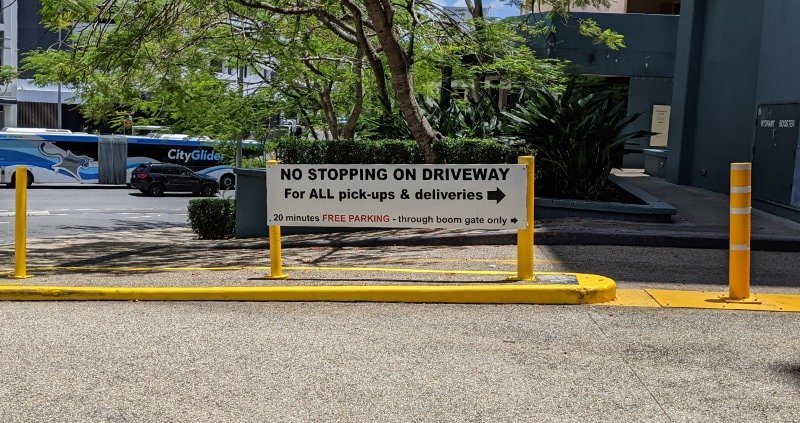 What are the Car Park Height Restrictions?
2.1 metres for the residents and visitors car parking area. However, the delivery bay is much higher and supports high top trucks.
Where Not to Park
The visitors or residents car park are the only areas to park your vehicle.
Do not park in the following areas…
In the driveway out the front of the main Gotha St foyer
Near the bin pickup area driveway
Any area that's not allocated a car park. Please use common sense.
Blind Spot Mirror Eliminate blind spots, avoid any accident or collision during passing, changing lanes or reversing, increase driving safety.
Cathedral Place Parking For Apartment Owners
Parking in Brisbane can be a nightmare. With limited spaces and high costs, finding a spot for your car can be near impossible. That's why many people opt for an apartment complex with parking spaces available.
When purchasing at Cathedral Place, most apartments come with an allocated parking spot. However, you do need to check before signing on the dotted line. Some smaller studio apartments may not have an assigned space. On the other hand, some of the larger units may have two allocated car bays.
Apartment car parking is a hotly debated topic in the apartment complex world. Apartment complexes have different parking rules, so it can be difficult to know what you are signing up for when it comes to parking.
Parking spaces are a rare commodity in densely populated urban areas. In these regions, finding a parking spot can be a daunting task.
With Cathedral Place located on the Brisbane City border, it makes sense to ensure that you arrange a car parking space for your unit. This can be a valuable asset to your property's value going into the future.
---
For further information on apartments for sale in Cathedral Place see the Cathedral Place Apartments For Sale page.
---