Properties for Rent at Cathedral Place
Cathedral Place Fortitude Valley rentals generally have between roughly 5 and 20 apartments for rent at any one time. The whole complex has about 500 apartments in total so in percentage terms that's around 1 to 4 per cent.
Apartments are individually owned so there is no one place to approach about renting an apartment in Cathedral Place. The best source to research renting an apartment is on realestate.com.au. I'll explain further below how to refine your search so you can display all properties in Cathedral Place for rent.
Interior Layout Designs in Cathedral Place Apartments
There is a variety of interior layouts depending on what your requirements are for an apartment. Listed below is the most expensive (and less available) three bedroom apartments through to the least expensive studio apartments. One bedroom and Two bedroom units are the most common available for rent.
3 bedroom apartments with 2 Bathrooms
2 bedroom apartments with 2 Bathrooms
2 bedroom apartments with 1 Bathroom
1 bedroom apartments with 1 Bathroom
Studio apartments with 1 Bathroom
Car Parking at Cathedral Place
Most rental units have a car parking space allocated although this may not always be the case depending on how the owner wants to advertise the apartment. Sometimes the owner may have employment in the city and may want to retain the car parking space due to Fortitude Valley's close location the Brisbane CBD. For further information on parking at Cathedral Place please see the Cathedral Place Car Park page.
Researching Fortitude Valley Rentals and Cathedral Place Apartment Rentals
Generally, the best website for researching Fortitude Valley rentals and Cathedral Place apartment rentals are on the realestate.com.au website. Fortitude Valley covers quite a large area from Boundary Street bordering the Brisbane CBD, right down to Skyring Terrace bordering Bowen Hills and Newstead. Cathedral Place is closer to Brisbane City so it makes its location suitable for anyone working in the Brisbane CBD.
Searching the whole of Fortitude Valley can return a lot of results so it helps to know how to refine Cathedral Place rentals only. Using search terms like "41 Gotha St, Fortitude Valley", "Cathedral Place" or even "studio apartments for rent Brisbane" does not work. The Cathedral Place address, while generally unified under 41 Gotha St, Fortitude Valley can use a secondary address depending on what street the apartment faces. For example, F block is also known as 592 Ann Street, B/C block 131 Wickham Street, etc. Confusing I know, but that's the way things are.
Try the method below as you are sure to find all the properties listed in Cathedral Place for rent where you can do some research. It's best if you use a desktop computer of some type as it's a less frustrating exercise!
Step 1 – Do a search on realestate for Fortitude Valley, QLD 4006
Visit realestate.com.au, select the "Rent" tab and type "Fortitude Valley, QLD 4006". Click Search.

Step 2 – Use the Map selection to refine Cathedral Place by location
This step maybe better when using a desktop computer.

Step 3 – Zoom in on Cathedral Place between Gotha Street and Gipps Street
Cathedral Place occupies a fairly large area of land. A whole block to be more precise. The bordering streets include Wickham Street, Gotha Street, Ann Street and Gipps Street.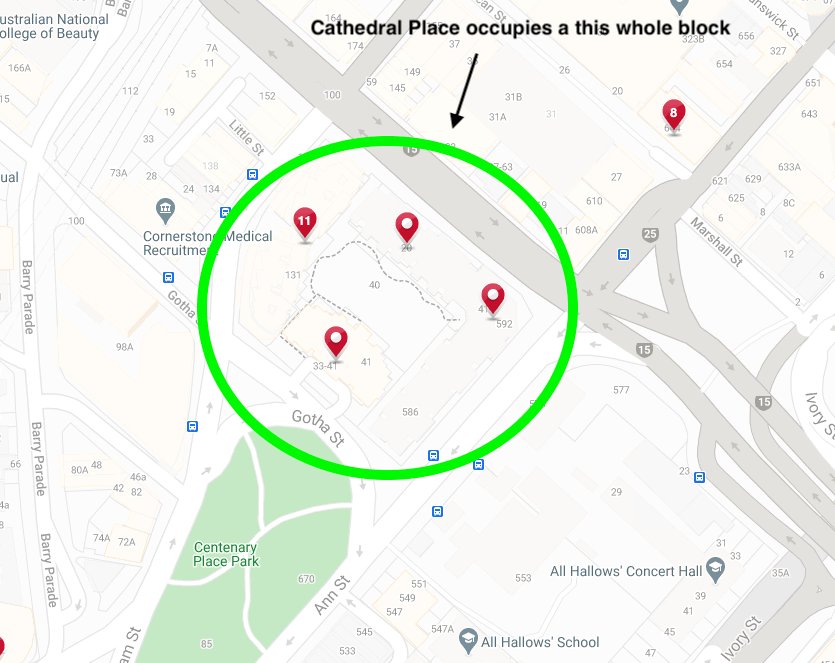 Things to take into account when renting an apartment at Cathedral Place
As mentioned earlier Cathedral Place apartments are owned individually so every rental can differ. Here is a check list of things to factor when renting an apartment. You can then compare other apartments to make sure your are getting the best deal.
How many bedrooms does the apartment have? Naturally, the more bedrooms the more expensive to rent.
How many bathrooms does the apartment have?
Is an allocated car space provided?
If there is a car space provided, is it located on Basement 1 or 2? (ie B1 or B2). B1 is easier to get in and out of the complex.
Is the apartment facing internally or externally? Generally, internal-facing apartments are quieter because you don't get the street noise. Also, the view over the internal pool is better than facing the street. Possibly a subjective viewpoint although I think you'll find this is the consensus.
What is the condition of the apartment? Some apartments are old and tired, some have been renovated.
What block is the apartment in? Some of the apartment blocks are larger than others ranging from five to nine levels. You may prefer to be in a smaller block or possibly would enjoy the view that the taller blocks provide.
Rental Period Terms
Standard Apartment Rentals
Rentals in Queensland are generally a 6 month or one year term depending on what agreement the apartment owner has with their real estate agent. So you'll need to enquire about this with the real estate agent before lodging an application with them.
Short Stay Accommodation
Some owners do opt to rent their apartment out on a short stay basic. Anyone looking for short stay accommodation at Cathedral Place, make sure to read the Short Stay Accommodation & Cathedral Place Reviews page.
Are Cathedral Place Rentals Cheap For Brisbane?
Cathedral Place apartment rentals would be considered competitive, if not slightly cheaper than other apartment complexes close to the Brisbane CBD. As you may already be aware Brisbane apartment rental vacancy rates have been rising over the years so negotiation is definitely in favour of the tenant. You can always try your luck at a cheaper rental price!
How Does Cathedral Place Compare to Other Brisbane Apartment Buildings?
Most notably in favour of Cathedral Place is the mid-rise height of the complex. Instead of a high-rise complex going straight up, it's more spread out which allows for a large internal swimming pool and BBQ area. Quite uncommon for apartment buildings so close to Brisbane city. Having said this, there is one thing that generally can't be escaped in inner-city living, and that's noise. When choosing an apartment I would favour the inner facing units as they don't get the traffic noise that the outer facing units do. Cathedral Place has three major roads on its perimeter, Gipps, Ann and Wickham streets. Gipps st would be the loudest as it carries the traffic going over Story Bridge.